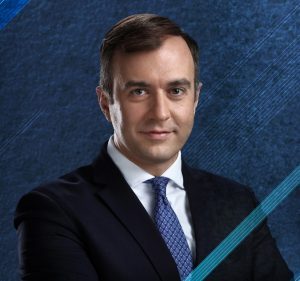 Anastasios Chatzivasileiou is a Member of the Hellenic Parliament (Nea Demokratia Party) and 1st Vice-Chairman of the Parliamentary Committee on European Affairs. Moreover, he is a Member of the Parliamentary Assembly of the Council of Europe (EPP/CD Group). He is also Assistant Professor of International Relations and the EU at the Hellenic American University (New Hampshire, USA).
He was born in Serres, Greece, in 1981 and he has studied Political Science, with a specialisation in International Relations and Political History. He graduated from the Department of Turkish Studies of the University of Cyprus and he continued his studies in International Politics and Southeastern Europe Studies at the University of Athens. He holds a PhD in Political Science and History from Panteion University of Athens.
He has been honored with scholarships from the Republic of Cyprus, as well as scholarships of the "Alexander S. Onassis", "Lilian Voudouri" and "Bodosaki" Foundations. He has received academic awards by the Republic of Cyprus and the University of Cyprus. He speaks fluently English, French and Turkish and has an advanced language level in Spanish.
He has previously worked as a Special Advisor at the Greek Ministry of Foreign Affairs and the Hellenic Parliament and as a Research Fellow at the Department of Foreign Policy and Cyprus Issue at the Ministry of Foreign Affairs of Cyprus. He has participated in various research projects in Athens, Brussels, Istanbul and Nicosia and has taught as a visiting researcher at Ankara University and Panteion University. His articles have been published in newspapers and academic journals in Greece and abroad. In the private sector, he has worked as a consultant for International Business Development in Athens and Istanbul.
On December 2019, the Greek Prime Minister Kyriakos Mitsotakis appointed him as International Secretary of the Nea Demokratia party.